Wappler Version : 1.9.4
Operating System : Windows 10
Expected behavior
Setting MAX attribute of input should not allow dates after that and accept dates before that.
Actual behavior
Setting MAX attribute of input does not allow dates after that to be selected, but still fails the validation because of mismatch of date format.
How to reproduce
This is my normal input with type as DATE.
The MAX date constraint is set using a DateTime variable dateToday.
<input type="date" class="inputFloat form-control" id="dob" name="dob" autocomplete="off" data-rule-date="" required="" data-msg-required="DOB is required." dmx-bind:max="dateToday.datetime.addYears(-18).formatDate(&quot;yyyy-MM-dd&quot;)">

The date format of my system is dd-MMM-yyyy, which is what the browsers show, by default and cannot be changed.
But this is just the format in which the value is shown. Date inputs ALWAYS return the value in yyyy-MM-dd format.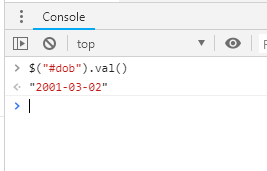 The DMX validator is not checking with the actual date value for some reason.
Please check.