Wappler Version : 3.2.2
Operating System : Windows 10 2004
<input class="d-flex border-danger" is="dmx-dropzone" id="dz_Attachments" type="file" name="Attachments[]" multiple message="" accept=".png,.jpg,.jpeg,.pdf" data-msg-accept="Only PDF, JPG, JPEG and PNG file types are allowed." data-rule-maxfiles="5" data-rule-maxtotalsize="10485760" data-msg-maxtotalsize="Total size of selected files should be no more than 10mb." data-msg-required="Please upload at least 1 file." dmx-bind:required="ShowSection.value == 3" data-rule-minfiles="1" data-msg-minfiles="Please select at least 1 file." data-msg-maxfiles="Please select no more than 5 files.">

The required validation should show appropriate message.
Actual behavior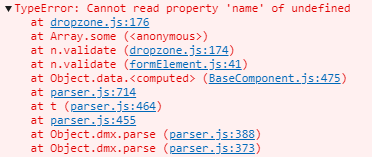 How to reproduce
I am validating the dropzone's required validation on button click like so dz_Attachments.validate()
On doing this, I see the above error in browser console.
I see the same error when I try to run the validate function using dmx.parse.
I also tried removing the dynamic required validation, but it did not make a difference.
Please help.