Okay I think you mean similar to this?
Current set up: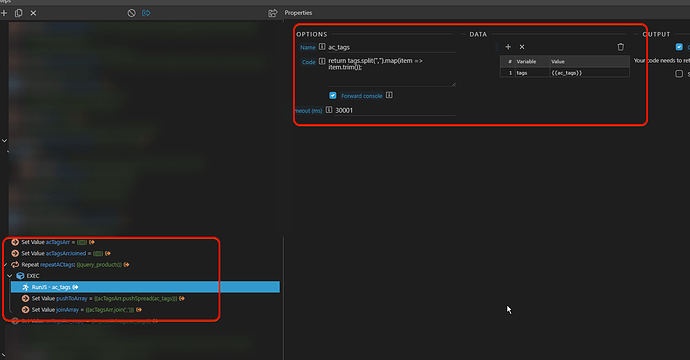 Output:
The acTagsArr that I set with 'SetValue' is getting the values pushed as expected.
 "acTagsArr": [
    "tag1",
    "tag2",
    "tag3"
  ]

Then I just need the last step: .join(',')
So I put it in the repeat now, because it should join the array after the last repeat.
Outcome:
 "repeatACtags": [
    {
      "ac_tags": [
        "BOUGHT | NTSL Ebook"
      ],
      "pushToArray": 1,
      "joinArray": "tag1"
    },
    {
      "ac_tags": [
        "these are tags",
        "here"
      ],
      "pushToArray": 3,
      "joinArray": "tag1,tag2,tag3"
    }
  ]

But then I'm not sure how I can get that final joined array.
Trying like this: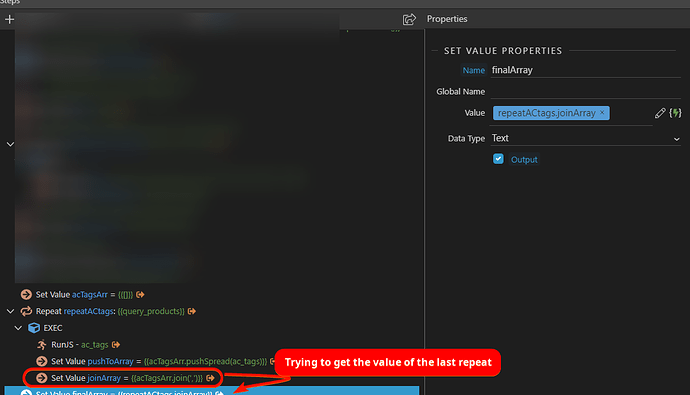 But this is not giving me any output.
EDIT: Which makes sense to me now because it's an array, so I need to select the last item somehow. I'll try this out now