Wappler Version : 5.5.2
Operating System : MacOS
Expected behavior
What do you think should happen?
Local scoped extension components should register in the UI
Actual behavior
What actually happens?
They don't. Using same hjson file to test.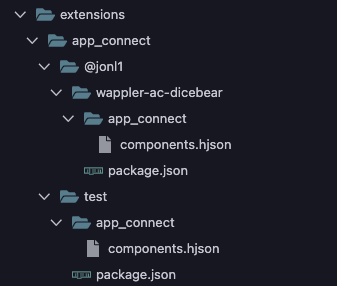 The test extension registers correctly with the UI but the scoped one doesn't.
Doesn't register:
extensions/app_connect/@jonl1/wappler-ac-dicebear/app_connect/components.hjson

Registers:
extensions/app_connect/test/app_connect/components.hjson

The contents of the components.hjson is exactly the same. No errors in it. I'm using the demo one you created.