Wappler Version : 3,6,1
Operating System : OSX Big Sur
Server Model: NodeJs
Database Type: MySQL
Hosting Type: Docker
Expected behavior
What do you think should happen?
this is based on an existing thread and I thought I would report this as a bug so it is noted:

I have a date field in my database and when I add data to a field using a query or directly in the Database Manager (see screenshot)
Then wen saving the table and fetch the table the data in the field should show the correct data.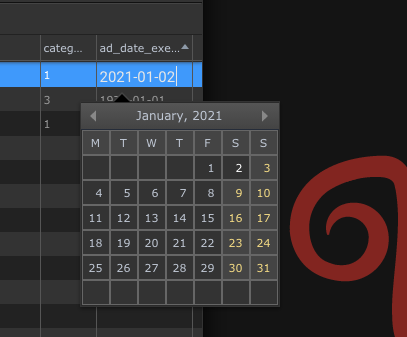 Actual behavior
What actually happens?
After adjust the date (to 2021-01-02), save the sable and re-fetch the data from the database, the date shows 1970-01-02
But when opening the same database in an external editor the correct data shows.
Also querying the data on a page shows the correct data.