Good day to all,
I have a specific question regarding repeat forms and the stylizing of said form. Currently I have set up a repeat form that has several section. For example there is currently a Vehicle section of the form within this section there are 6 questions that are needed to be answered. In addition a user is able to add and additional vehicle. See the below image
I am wondering what the best way to stylize the so that they will be outputted in the following fashion on the return data review page.
Currently the Vehicle section outputs the review data in the following fashion. The problem is that currently there is no way to differentiate the two vehicles. See the attached image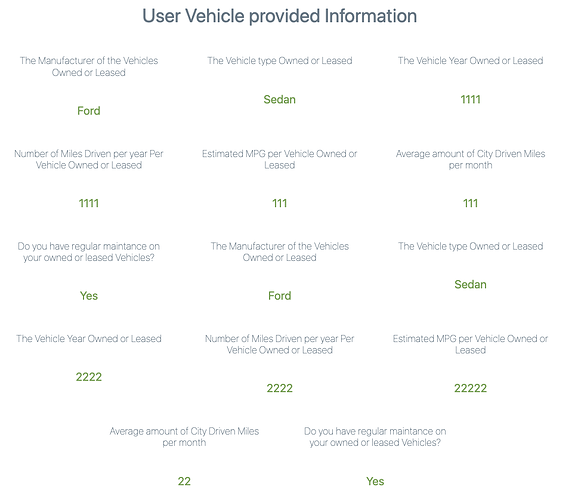 I would like the layout to be shown as the following (I created this layout quickly in figma). If there two or more inputs for review, in the image below there are two layouts.
I did a little research but I have to say I am a little confused as to how to associate the data. I would assume the use of a list element within a div would work. Below is an example that I tried but it did not achieve my desired layout.
<div id="userList" dmx-bind:repeat="carbonCalculator.Vehicles.items">
  <div class="card">
<div class="card-body">
  <h5 class="card-title" dmx-bind:text="Veh.item[]"></h5>
  <p class="card-text">Age: <span dmx-bind:text="VehManufacturer.value"></span></p>
</div>
  </div>
</div>