From the beginning, I've never had any problems with database connections in Wappler. I always set up my local and remote database in the same way and have always been able to switch between the two, using a single connection. Also, I don't use the Database Manager. For these reasons I've never paid much attention to the various discussions regarding connection issues and new features.
Previously, when working with server connect, it didn't matter whether I had the target set to local or remote. Now, if the target is set to remote and I edit an existing query, I get:
Nothing appears in the dropdown list. I thought there was a chance the database tables might be updated if I clicked update, but: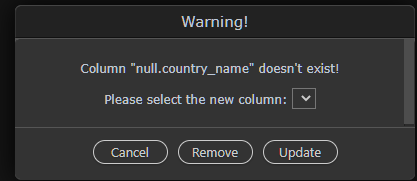 I don't know if this matters - I can just leave the target to local - but I wonder if there are any potential problems. I think it may have something to do with:
I don't think this is covered in the documentation. I have vaguely noticed this option cropping up in discussions, but never having any connection issues, I didn't take much notice.
Can I just ignore these messages and just keep the target to local when editing APIs? I frequently use the 'open in browser' option when working on APIs and certainly want to switch between local and remote to see the output, but strangely this works fine. Or should I update something and perhaps create new targets with different settings? (Perhaps I should read the documentation, althougth I'm not sure if these new options are covered - or I may have looked out some old documentation).
I use PHP/MySQL with WAMP. (I've tried Docker, locally, but am quite happy with WAMP.)
I would be very grateful for any suggestions. (I'm sorry if these are rather basic questions.)