Trying to download a file from s3 so I can then send it to another API.
I thought this would be simple to do but I'm failing to understand how to use 'Get file' and 'Download file'.
I have a path that holds my file:
/school/1/invoices/factuur-A.pdf

I have a destination for this file:
/tmp/factuur-A.pdf

Whne I try to use getFile: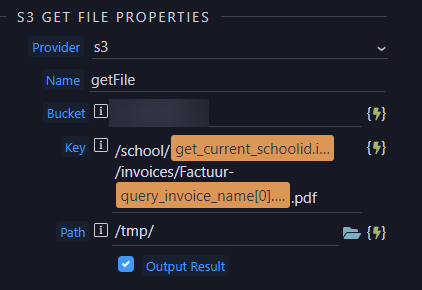 It throws the error:


The path I see is confusing me, it seems to join the 'path' with the 'key'.
If I split up the key and the path:


it throws the same error

which makes sense, as the file is not in /opt/node_app but it's on my s3 storage.
Am I completely missing the point here of getFile?
Since 'putFile' puts a file on s3 storage. I assume 'getFile' takes it off?